Welcome to the Lady Sabelle Designs website! I'm so excited to see it finally put together and running smoothly.  Now I have my own space to talk about and share my love of dungeon terrain. I've been a fan of Hirst Arts molds for years and I love building elaborate dungeons using them. The only thing missing, in my opinion, was decor items. My dungeons always felt too plain and empty.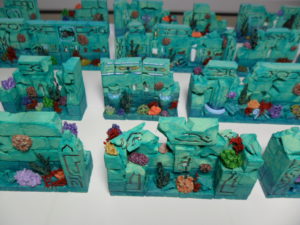 When Bruce Hirst finally released the Inn molds a couple of years I was inspired to make some decor pieces of my own. At the time I was planning an Atlantis build.  There would be a pirate town above (using the Inn molds) and, of course, Atlantis; but I wanted it to be underwater. The best way to instantly give that impression was to add coral. Since I couldn't find that in scale anywhere, I decided to make it myself. This was my first attempt at sculpting.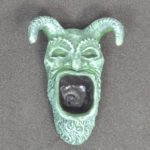 That led to me other, simple pieces like bags, ropes, and mushrooms. I was a very casual sculptor, working only a handful of days that year and more concerned with building dungeons than creating new pieces. Sculpting was just a way to enhance and personalize my builds; I didn't feel my skill would ever be more than mildly adequate. Then my husband asked me about doing a build based on the famous module "Tomb of Horrors."
I revisited the module and looked through the various illustrations and descriptions. There are many iconic elements to that dreadful dungeon and if a build didn't contain those elements, no one would recognize the thing. I started with the green demon with its open mouth, but my skills at the time were not up to the challenge. Frustrated, I decided to try other pieces instead. That lead me to make these wall tiles from the entrance hall of the Tomb.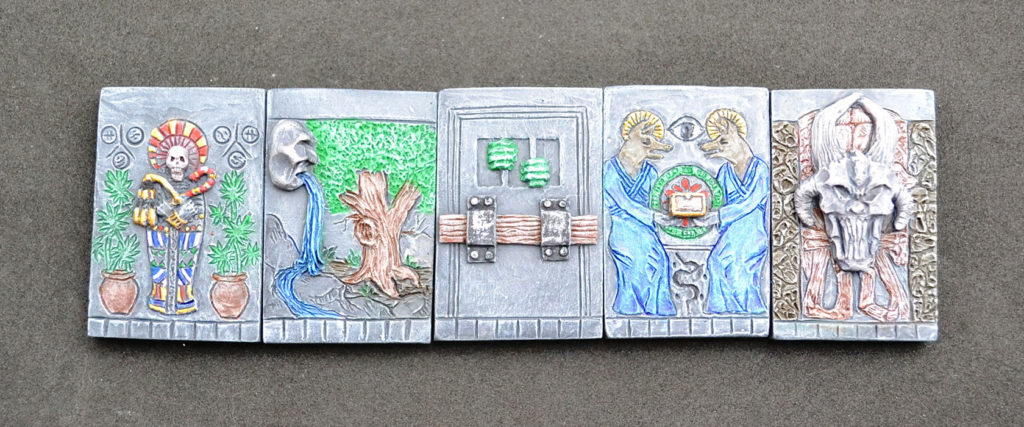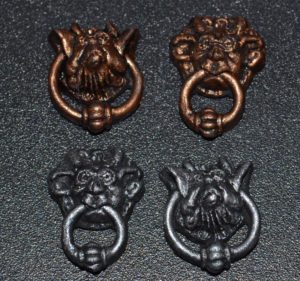 While working on these, I started to have ideas of building my own dream dungeon. One of my favorite movies growing up was "Labyrinth." The first thing I decided to tackle was another face, this time a pair of door knockers. After many failed attempts I finally managed something I could be proud of.
These lead me to do, False Alarms, Helping Hands, Peeing Goblins, the Bog of Stench, and many more fun little pieces. I shared my designs online and was encouraged by the praise I received. It was this encouragement that kept me motivated to continue creating and improve my skills. Then two very important events happened that would change my world forever.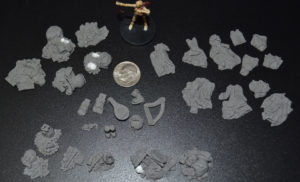 The first of these events was a simple thing, a forum post from Bruce Hirst himself. He urged me to start making molds for sale. This, from a man I admire and respect and whose talent is well known in the world of gaming terrain. That post focused my attention and resolve to start sculpting daily to improve my skills.
The second event occurred a couple of months later when I was sharing pictures of my sculpting efforts on various gaming related sites. I'd posted pieces on the Dwarven Forge site to see if what I was sculpting had appeal to those outside of the Hirst Arts crafting crowd. Someone noticed my work and made me an offer. At the time, Dwarven Forge was in the middle of their third successful Kickstarter campaign. The creator of DF, Stefan Pokorny, asked me to sculpt pieces for his City Builder System!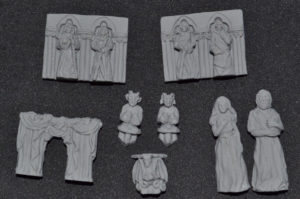 With only 2 weeks left in the campaign, I started sculpting in a frenzy. This leveled up my skill at a rate that surprised me. It gave me that extra incentive to push myself outside my comfort zone. Despite the stress and frustration of working with a very short deadline, I am so glad that Stefan reached out to me. I could see my skills improve with each new sculpt.
As soon as the Kickstarter was over, I threw myself into completing my first 5 custom molds. Working out themed sets, improving my mold making techniques, finishing the sculpts, and testing the design. Now I'm ready to offer these molds for sale on this brand new, shiny website; for which I'd like to thank my wonderful husband. He has worked tirelessly to put this whole thing together for me as well as supported me in my art.
I'd also like to thank all those who responded to my various forum posts through the years. Without your advice, design tips, and encouragement I never would have gotten this far. And finally, thank you to all the gamers and artists who have purchased my molds. I hope you all have as much fun using them as I did making them.